Pallet Changers Using Side Moving Techniques – Automated Pallet Warehouse
The side-moving technique does not involve tilting, clamping, or inverting. The pallets are pushed gently from the original to a target pallet. The pushing process is gentle and suitable to palletize sensitive products.
Some products are fragile, so cannot be tilted or inverted but with Top Industries' stationary pallet changer called 'The Side Mover', it is possible. They even offer a variety of mobile and stationary pallet inverter models called the Turner 3300, The Game Changer, The Classic Single Clamp, The Classic Ground Level, and Stationary Hands-Free.
How does the side-moving pallet changer works?
In comparison to the tilting and turning techniques, the side-moving pallet changer functions differently. Instead of tilting or rotating the products, safe pressure is applied laterally on both sides of the load stack and lifted. It is then slowly moved side-wards toward the new pallet placed on the side.
The sides are padded walls, which allow pressing loads gently and allowing their uplifts and shifting side-wards. The lateral pressure applied on both sides of the load stack does not damage the goods. The padding ensures safe lifts and movements toward the side space equipped with a new pallet to handle the load.
The pressure setting feature allows changing the compression level based on load types. If your loading unit encounters consistent load flow then choose an automatic system instead of a stationary pallet changer.
The operator's task is not labor-intensive. They just need to place the loaded pallets within the machine using pallet jacks or forklifts and ensure the position of new pallets on the side to handle the pushed loads.
The side mover pallet changer works on a side-to-side movement technique, so the pallet changing process speed is more than inverting or tilting methods. For higher efficiency, you can adapt to a fully automatic pallet exchange system.
What is an automated pallet warehouse?
It is a storage facility designed to store palletized goods up to a specific weight. You get a vast storage space with a small footprint. It includes
A racking system
Rack aisles with ASRS [automatic stacker crane] or pallet shuttles.
Various workstations for order picking, incoming & outgoing goods.
In-feed & out-feed conveyors around the boundary.
Software to control material flows.
Advantages of automated pallet warehouse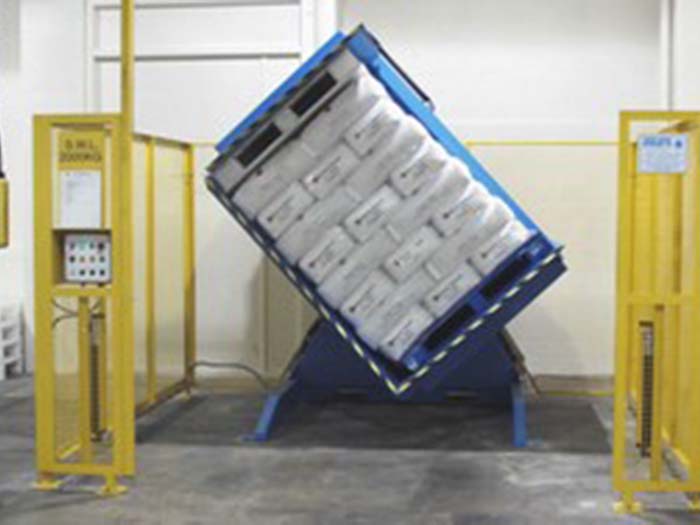 Universal usage across every industrial niche.
Suitable for deep freeze, refrigerated, and standard warehouses.
Proper use of warehouse space.
Quick access time.
Enhanced throughout rates.
Modular & scalable.
Safe & steady workflow.
Reliable & low maintenance.
Complete automated handling, so the error rate is minimal.
Functioning of the automated pallet warehouse system
The automated pallet handling system is software controlled swaps manual storage & retrieval process in a warehouse. Goods-to-person code is used for picking up and transportation to workstations.
The stacker crane moves horizontally on a rail and stops at a designated position ad uses a vertically functioning lift truck to store or remove load carriers from the racks installed at different levels.
Shuttles move independently on cross beams of storage racks. They can operate alone or with multiple vehicles on a single or several storage levels. Shuttle systems are more scalable and capable to attain high throughputs.
Check Top Industries YouTube video to understand how the side mover pallet changer functions!